The Outlook 2011 to Mac Mail Converter by Gladwev is obviously one of those gadgets and we welcome you to work with it beginning today and to settle your issues this moment and failing to worry about it until the finish of time. This converter tool guarantees for everything that we have and we for the most part do our best to satisfy our client's needs. This thing will offer a prompt Export from Outlook to Mac Database. Everything is so regular and open with the OLM Converter Ultimate that you are offered a full capable treatment clearly, without tangling yourself or have the tendency that you haven't the foggiest what you're doing. These days' entire age is running behind Apple items. Apple PCs are winding up progressively surely understood. You can see the silver MacBook's everywhere. Apple items advancement campaigns seem to work very well as a consistently expanding number of people are changing from Windows PCs to Macs. With that, they often have a need to pass on their mail over to the new stage. Standpoint is the most outstanding email client for Windows. OLM Converter Ultimate makes it easy to send out your Outlook email and import it into a Mac mail client, for instance, Apple Mail, Entourage, etc. Outlook 2011 to Apple Mail Converter will work with any Outlook email account (PST or Exchange). It conserves connections, sender email addresses, message timestamps, various lingos. Download the free primer structure and witness for yourself how straightforward it is. It bolsters sending out contacts and Calendar notwithstanding moving messages.
What are the advantages of OLM Converter Ultimate tool which makes the conversion task easy?
Just OLM converter ultimate that works Directly on Mac. Not any more deceptive substance sources, false ensures like various applications, which endeavor to copy us and not prepared to pass on results. We are satisfied with our tireless work and familiarize you with the fundamental App that runs direct on Mac. There is no source of misleading content, fake guarantees such as different applications, which attempt to duplicate us and are not ready to produce results. We are happy with our hard work and introduce you to the main application that runs smoothly on Mac.
The speed of conversion of this converter tool is unmatchable. It provides the user high speed of conversion with full accuracy. In the market currently various converter tools are available but all tools are not reliable and professional. The migrator software has various features that makes the conversion task super smooth.
The user can exchange all Calendar items to iCal. Your personal settings and plans are important, you realize that, we realize that, keeping in mind the reason we present an extraordinary element that you can use to easily exchange all logbooks, with little attention to numbers, directly to iCal. walk easily. Starting to exchange all your personal motivations directly into iCal now.
The converter software is designed in such an advanced way that the user can convert the data which is available in any language. So if you have the data in English/non-English language then you can easily convert them. Also it supports double-byte character set languages such as, Chinese, Japanese, Korean etc. So it supports all the languages. The user can easily import outlook 2011 to mac mail.
The user always faces the issue of nested emails. Most of the time emails comes like nest inside one another and it makes the data hierarchy quite complex. But this tool has solution to this. It maintains the data structure and hierarchy so that customer will not face any confusion while performing with there data.
This will exchange all contacts to VCF. Our own contacts are very valuable and this is an attempt to lose them when we have to start with one email customer then to the next customer. However, don't go there, given the fact that with OLM Converter Ultimate, you can exchange every necessary contact and avoid yourself from inconvenience and worry about losing them. Will protect all header information. This, perhaps the most important part of this device is how to protect everything for you, keep everything perfect and together. OLM Converter Ultimate will, of course, keep all header data fixed and protected. It provides full conversion accuracy.
Some user has doubts of their data loss while performing the conversion task. But with this converter tool, during the conversion of files, there is no loss of data. It keeps the data structure safe so that the user can convert outlook 2011 to mac mail easily and smoothly. Due to its simple interface, this conversion tool is easy to handle.
What are the instructions to Export Outlook 2011 to Mac Mail?
Below are the few simple steps to perform the conversion of data from Outlook 2011 to Mac Mail
In the first step you will need to click the desired source in order to Import Outlook 2011 to Mac Mail. After selection click on the tab "next".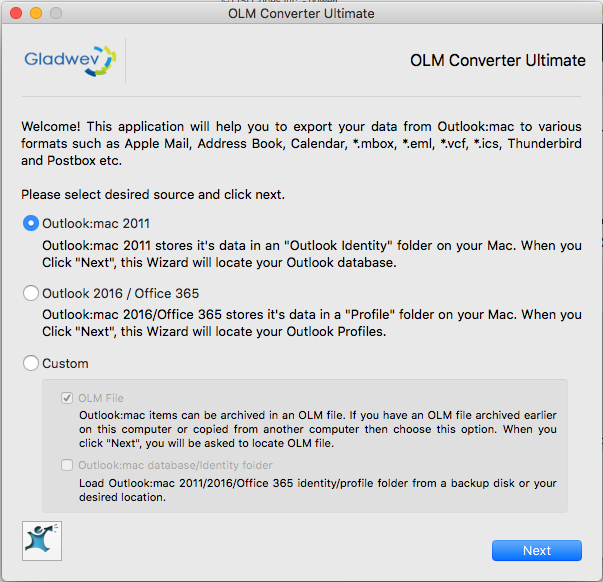 2. If you have more than one Outlook Mac identity folders, then please select the desired identity. After selection click on the tab "Go".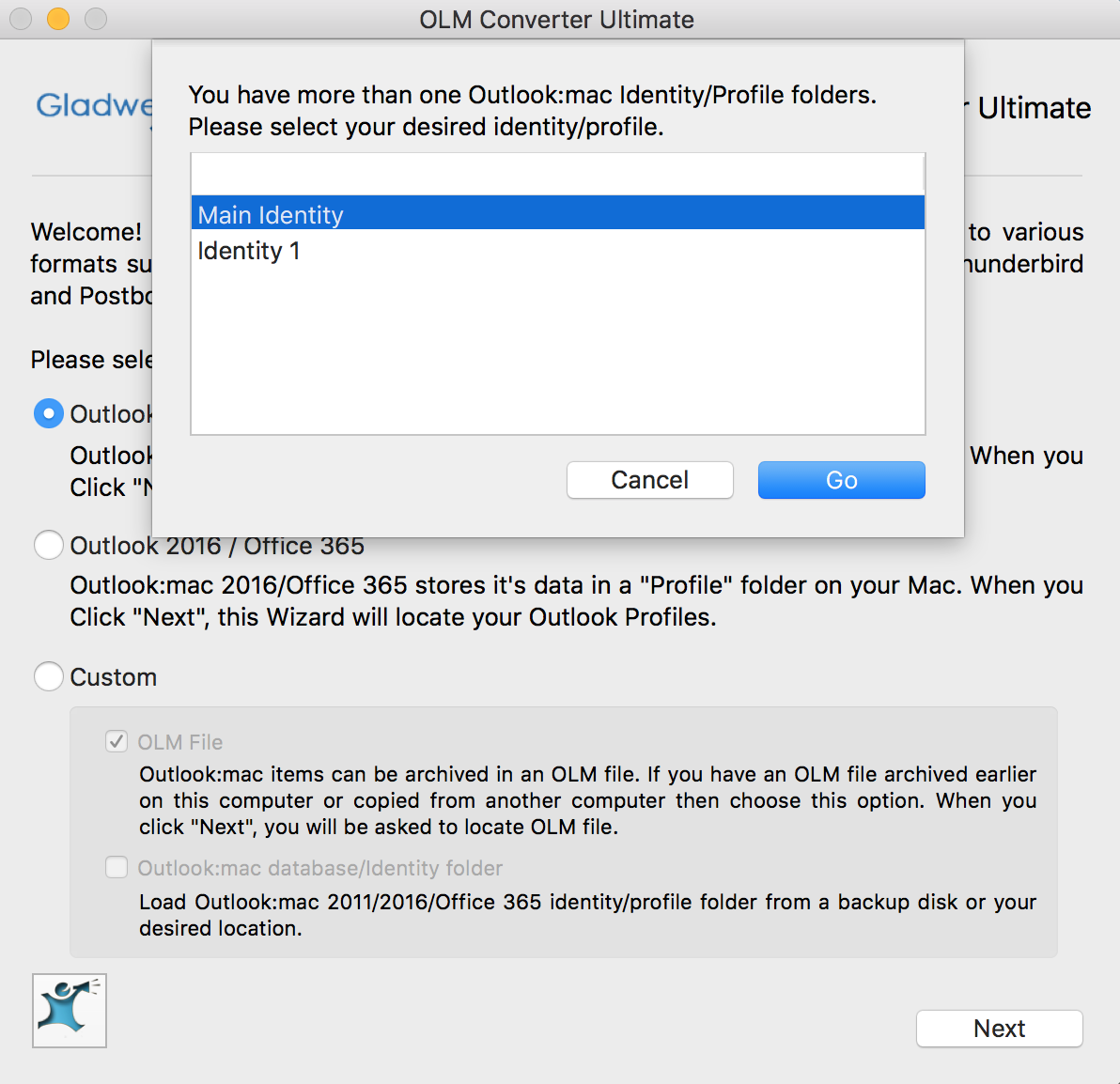 3. Here you got the popup of your desired identity folder data reading status.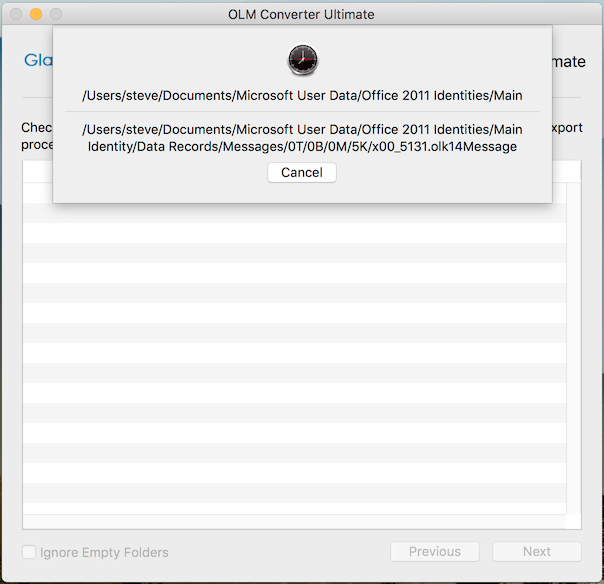 4. In this step it will display your folder structure. You can check or uncheck desired folders which you want to include in or exclude from the export process. Once you done then click on the tab "Next".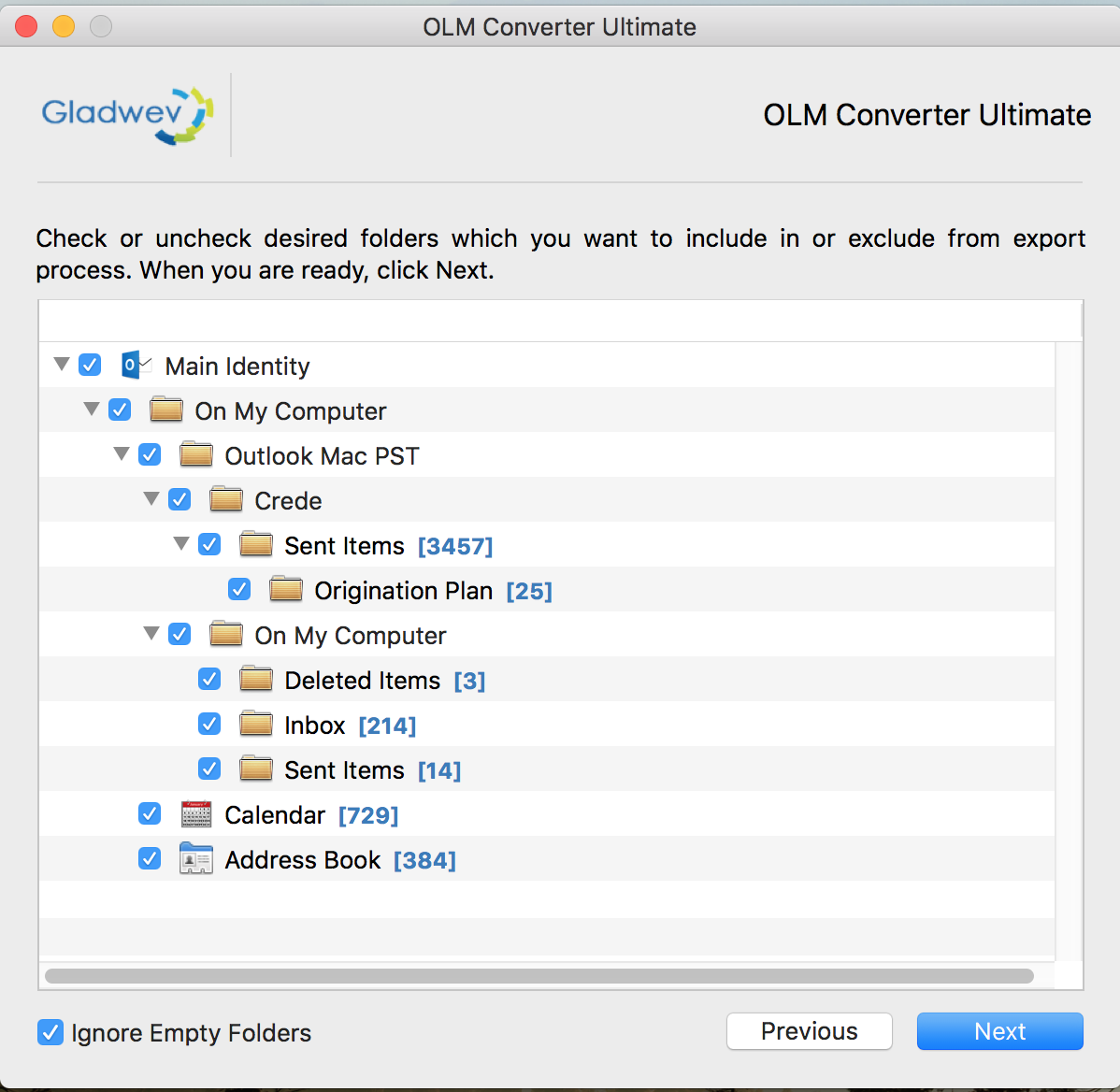 5. Now select the desired format for output results and click on the tab "Next".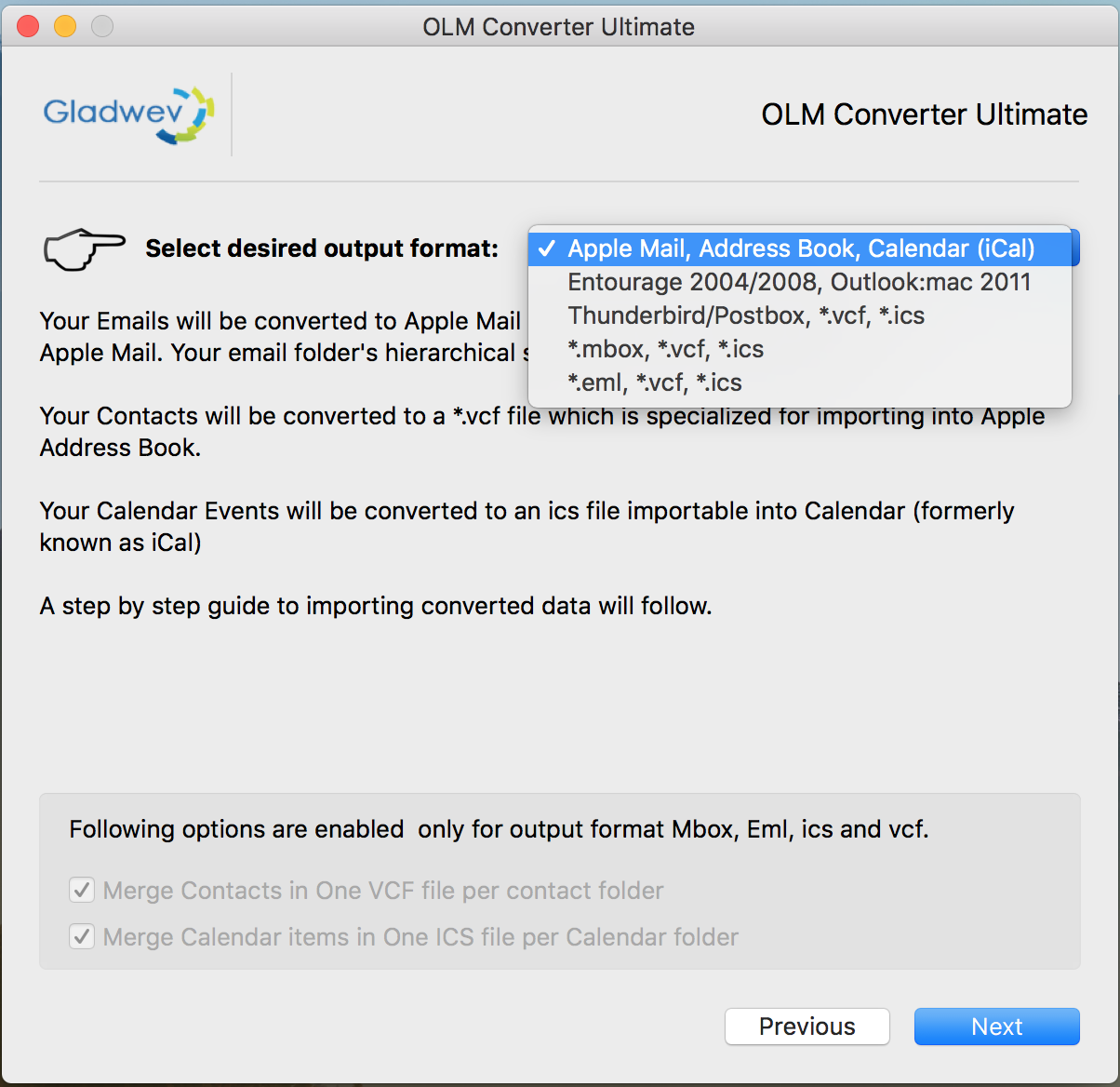 6. Here you have the option to select the desired location for the exported data.
7. After selection of desired folder to save the output data. You will need to click on the tab "Save".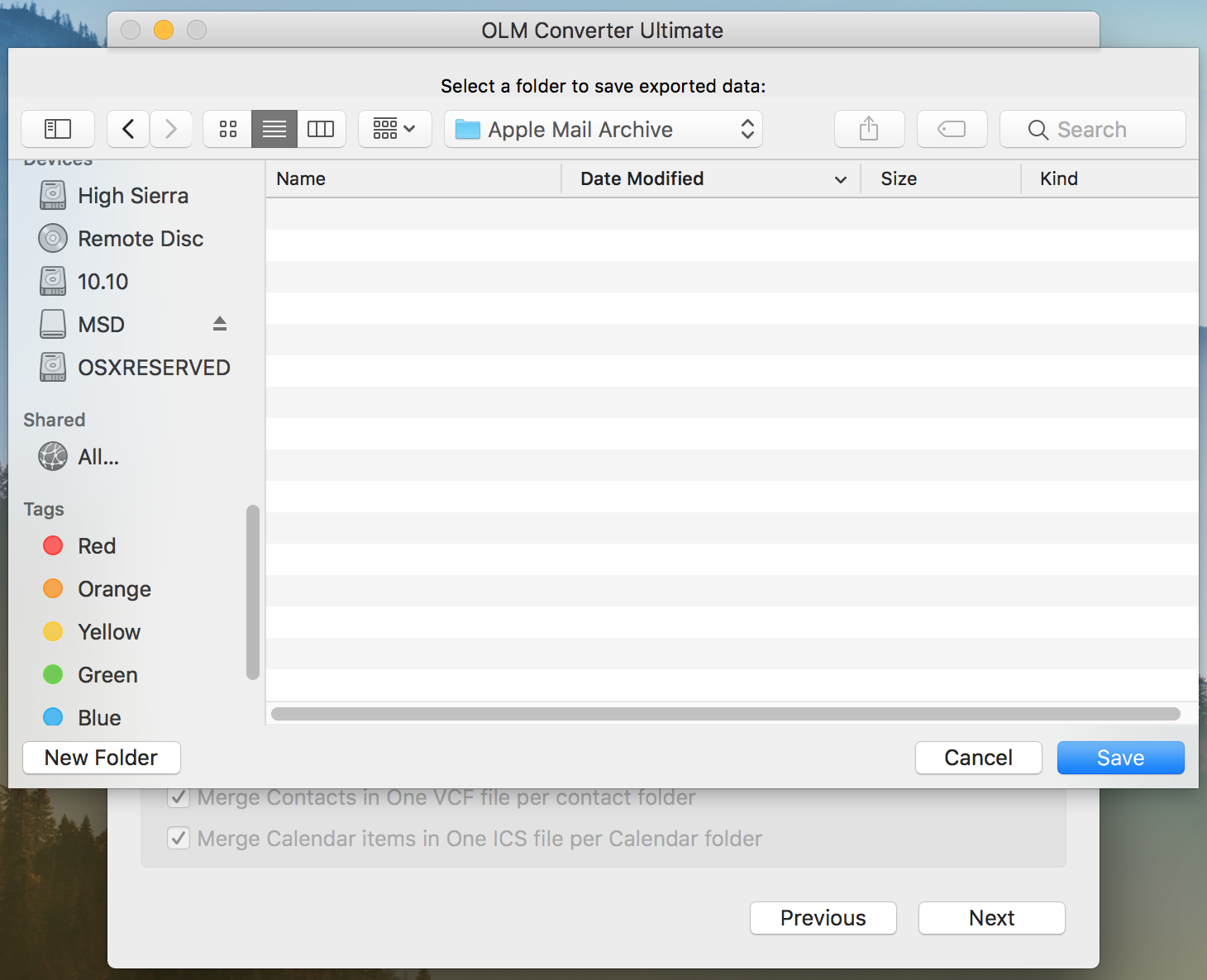 8. The screen displays the process of conversion task.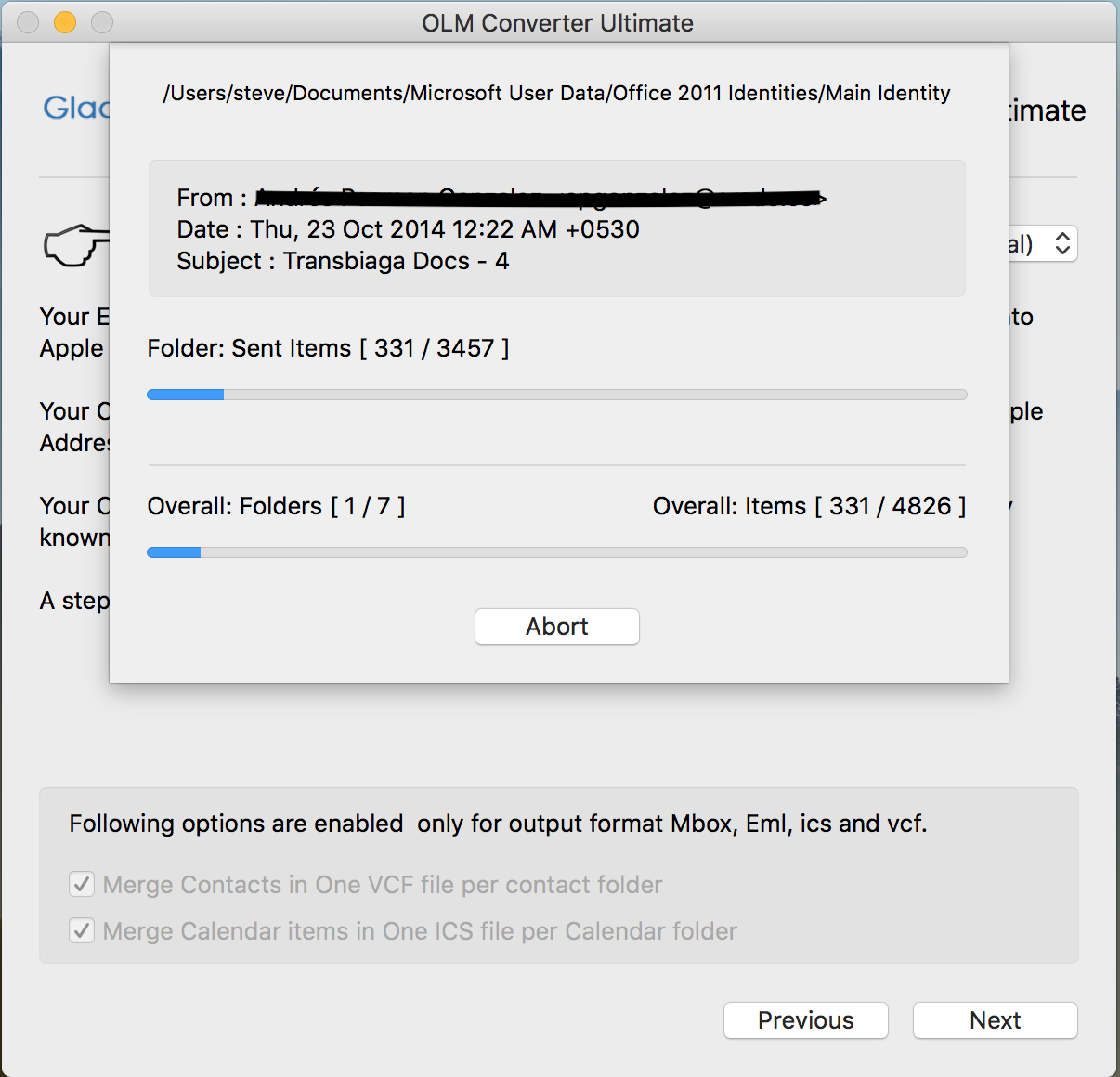 9. Once the conversion done the user will get the complete log report.