Nowadays whole generation is running behind Apple products. Apple PCs are ending up increasingly well known. You can see the silver MacBook's all over the place. Apple products promotion crusades appear to work very well as an ever increasing number of individuals are changing from Windows PCs to Macs. With that, they frequently have a need to convey their mail over to the new stage. Outlook is the most well-known email customer for Windows. OLM Converter Ultimate makes it simple to export your Outlook email and import it into a Mac mail customer, for example, Apple Mail, Entourage, and so forth. Outlook 2011 to Apple Mail Converter will work with any Outlook email account. It preserves attachments, sender email addresses, message timestamps, different dialects. Download the free preliminary form and see with your own eyes how simple it is. It supports exporting contacts and Calendar in addition to migrating messages.
List of advanced features of OLM Converter Ultimate tool which plays important role to Convert Outlook 2011 to Apple Mail.
Gladwev's OLM Converter Ultimate on Mac is one of those devices and we welcome you to work with it from today and to resolve your current problems and never worry about it until the end. We make sure for every item we have and we usually do our best to meet the needs of our customers, do you want to be an optimistic client? Do you want to solve your problem today? At that time, make sure this item is for you by reading about the highlights below and using it for maximum capacity. This item will offer export directly from Outlook to the Mac Database. Everything is so natural and open with OLM Converter Ultimate that you are offered advanced full care without difficulty, without convolution or the tendency that you don't know what you are doing.
Smooth conversion of mac calendars, contacts: There are no wellsprings of deceiving content, counterfeit ensures, for example, various applications, that endeavor to copy us and are not prepared to convey results. We are content with our diligent work and acquaint you with the fundamental Application that runs easily on Mac. This converter is capable to trade all Calendar things to iCal. Your individual settings and plans are significant, you understand that, we understand that, with that objective the reason we set forward you this remarkable component that you can use to trade all logbook books effectively, with a little consideration regarding numbers, legitimately to iCal. The method will run effectively. Begin trading all your own inspirations straightforwardly into iCal now. Will trade all contacts to VCF. Our very own contacts are truly profitable and this is a push to lose them when we need to begin with one email client then to the following client. Notwithstanding, don't go there, given the way that with OLM Converter Ultimate, you can trade each essential contact and dodge yourself from bother and stress over losing them. Will ensure all header data. This, maybe the most significant piece of this gadget is the means by which to ensure everything for you, keep everything faultless and together. OLM Converter Ultimate will, obviously, keep all header information fixed and ensured. This tool provides full accuracy of conversion. All that you convert with this thing will be spared.
No speed issue and fast work performance: Our application is sophisticated to execute. This converter tool has high speed and perform the conversion with accuracy. The various converter tool available in market but not all are reliable. This tool has various advanced features which make it to perform the conversion task easily. This tool can run directly on mac.
Allow user to perform direct conversion: The outlook 2011 to apple mail converter allows direct conversion. This helps to reduce the time and perform the conversion fast.
No language barrier: The user has his content in any language. To make working smooth with this converter tool, it is designed with the feature of Unicode content. Which allows it to perform the conversion of data in any language. So whether the data is in English language or in non-English language the user can perform the conversion task easily.
100% data security:  Nobody will tell you about information misfortune problems because of the decrease in information experienced while conversion. The client also stops when Outlook Mac crashes and is not eligible to send OLM chronicles. We offer an exit plan, by preparing changes directly from the Mac's Outlook database. One of the most important points of e-mail migration is data security, namely the accuracy of e-mail content, maintaining e-mail hierarchies, read / unread status, moving data to certain folders, languages ​​and formatting support, etc. Now, users can easily convert Outlook 2011 Mail to apple mail using the right email converter.
Note down the simple steps to Import Outlook 2011 to Apple Mail.
Below are the few simple steps to perform the conversion of data from Outlook to Apple Mail
In the first step you will need to click the desired source in order to Export Outlook 2011 to Apple Mail. After selection click on the tab "next".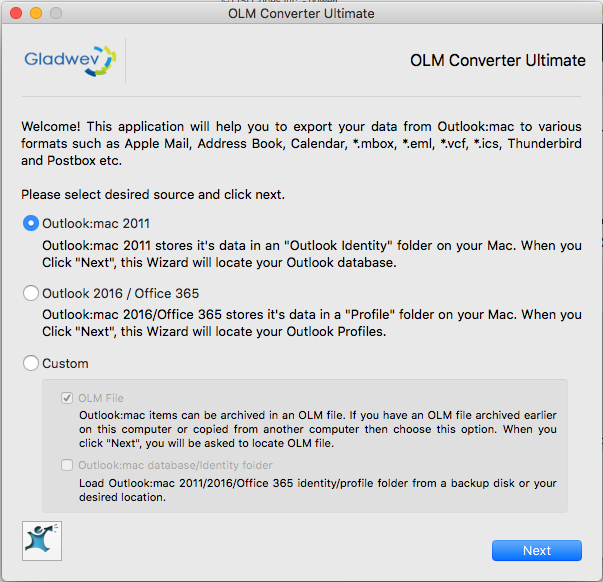 2. If you have more than one Outlook Mac identity folders, then please select the desired identity. After selection click on the tab "Go".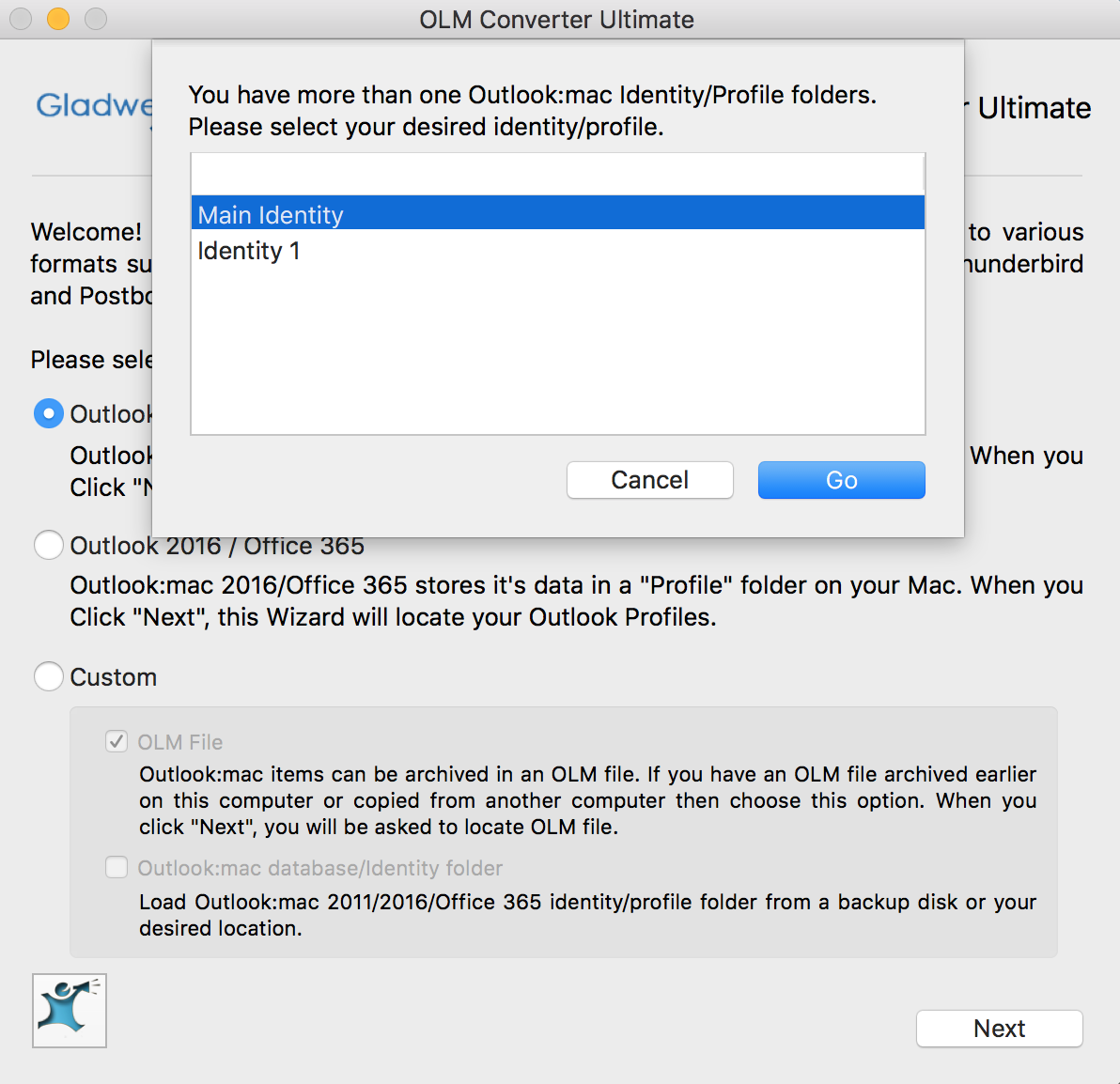 3. Here you got the popup of your desired identity folder data reading status.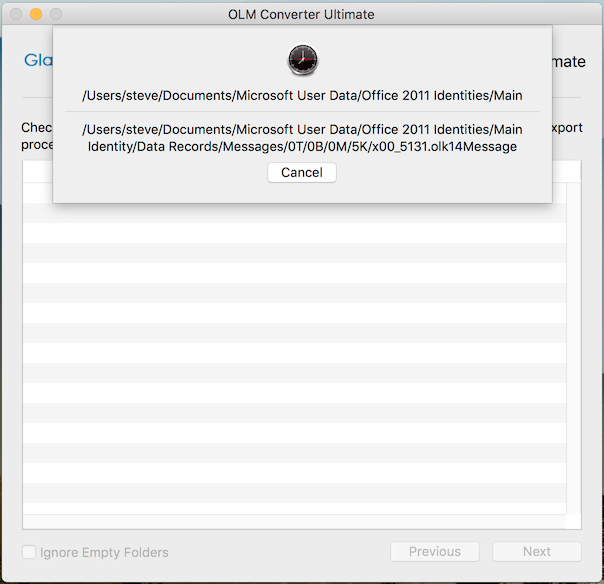 4. In this step it will display your folder structure. You can check or uncheck desired folders which you want to include in or exclude from the export process. Once you done then click on the tab "Next".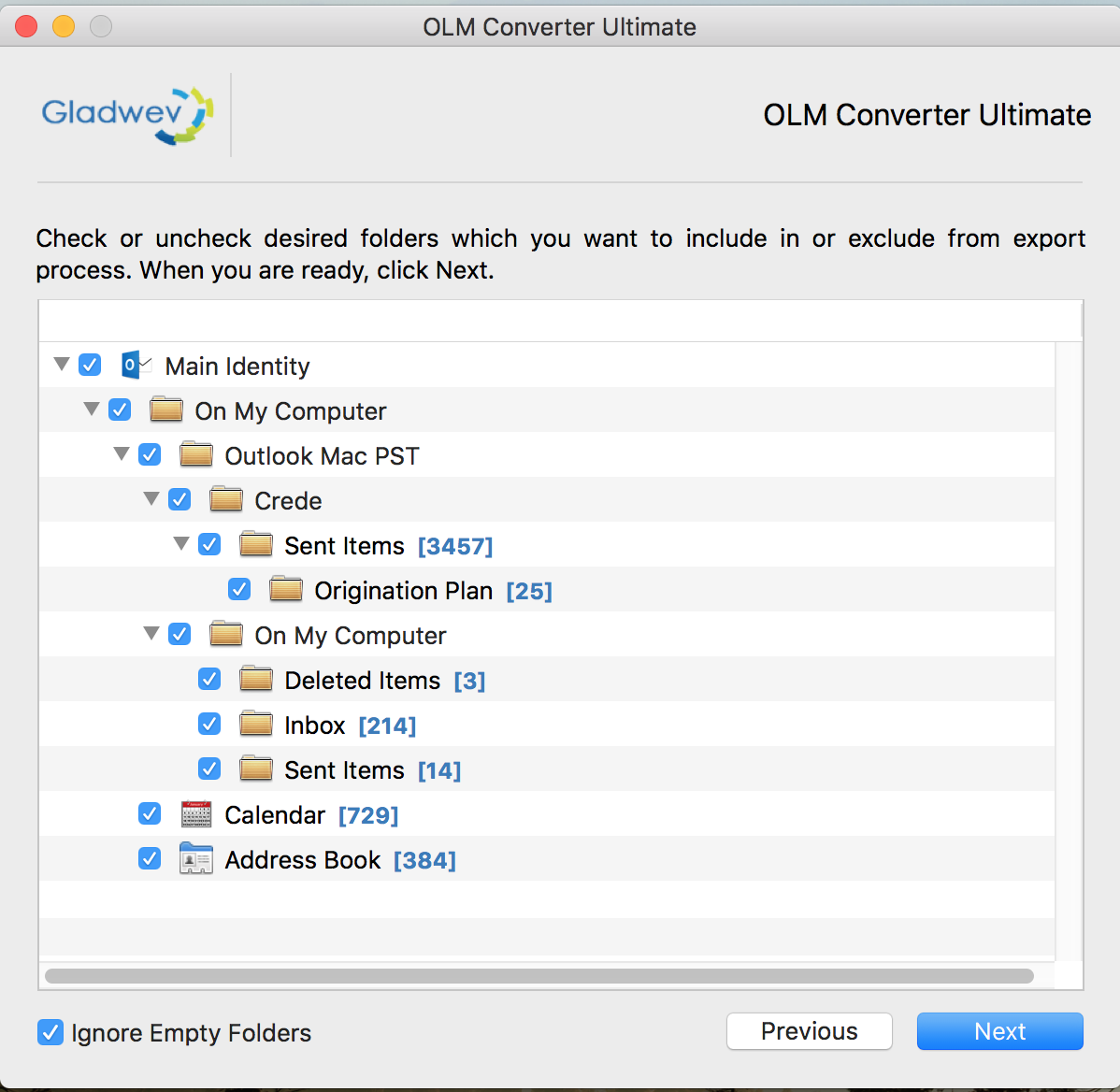 5. Now select the desired format for output results and click on the tab "Next".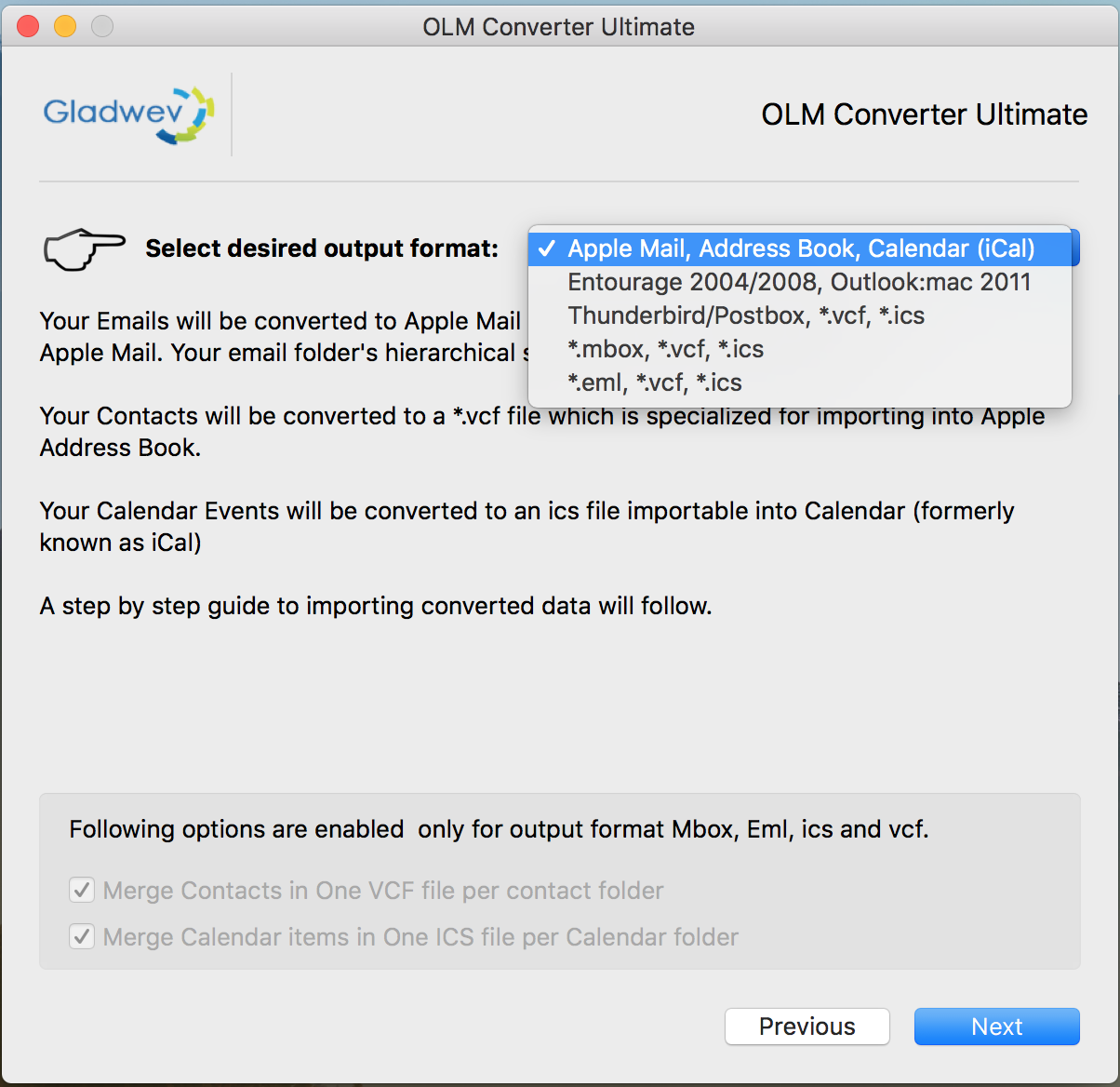 6. Here you have the option to select the desired location for the exported data.
7. After selection of desired folder to save the output data. You will need to click on the tab "Save".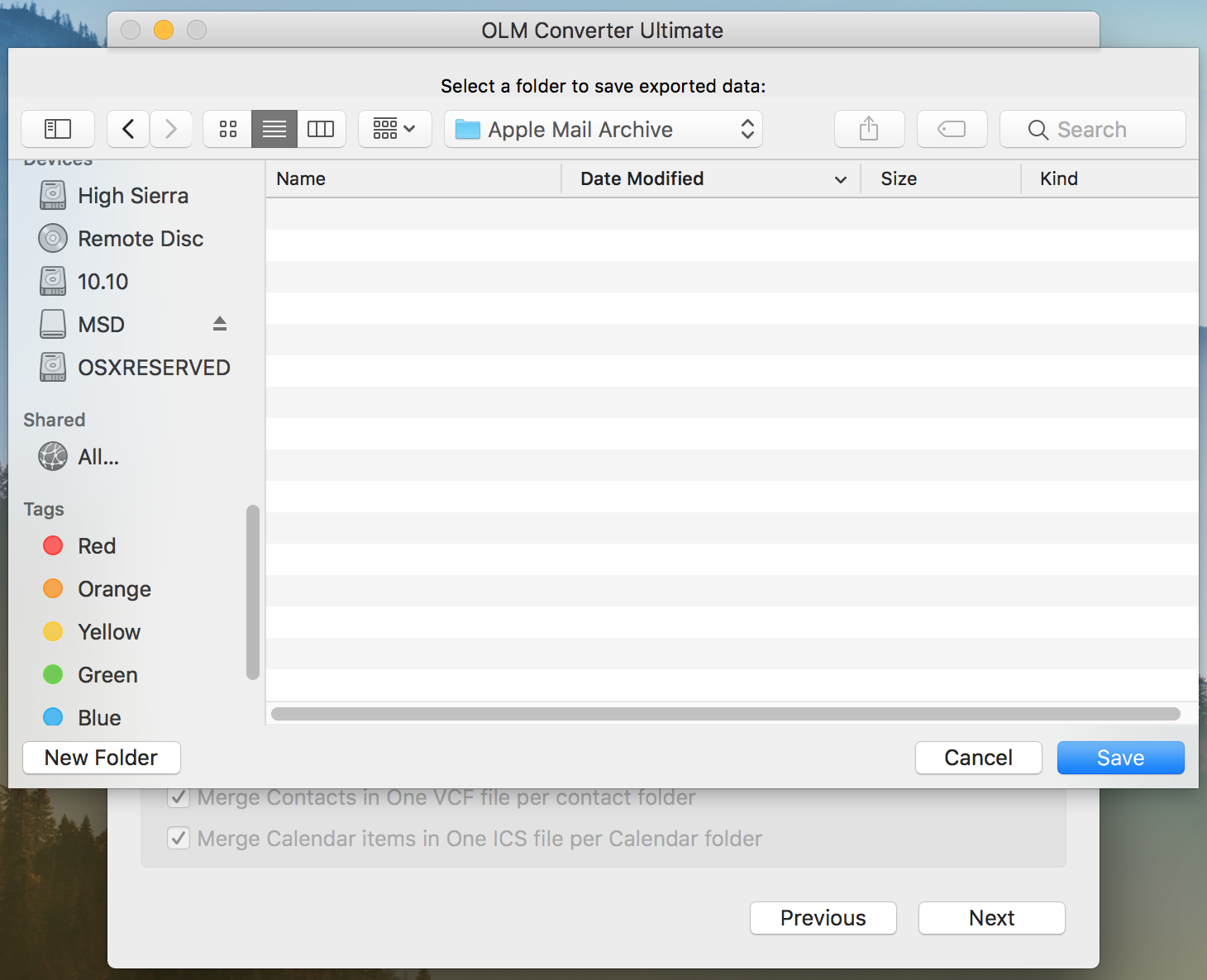 8. The screen displays the process of conversion task.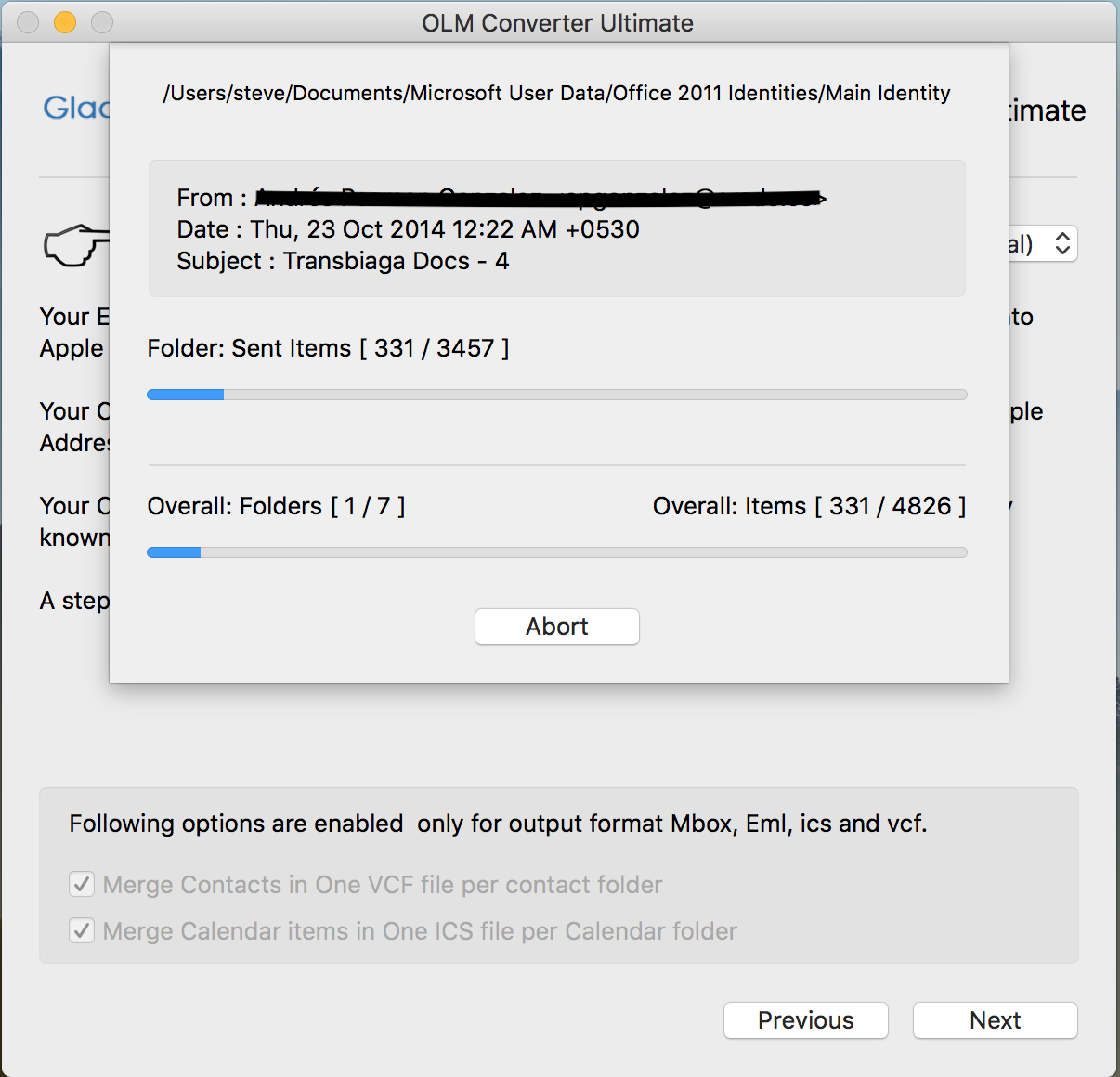 9. Once the conversion done the user will get the complete log report.