In this fast growing world the technology is changing rapidly. To be in this fast technical world, one has to be updated with it. Day by day the gadgets and the programs are changing according to the demands of users. All companies are in compaction with each other to be the best in this. The decision of switching from one email client application to another is not at all an easy task, especially for the business owners. When individual plans to move, they have a fear of hindering their day-to-day operation associated with them as migration can result in losing saved messages and contacts. However, still, for great versatility and effectiveness, migration process occurs. The reason being File Format for both the platform are different. Outlook stores data into proprietary file format PST. Therefore, whatever be the reason for migration a user needs to convert its PST Files into MBOX format. To find the best-fit option, you do not need to move here and there and explore the online stores. Here is recommendation too among the large heap of several options for added ease. With Outlook 2016 to MBOX Converter tool by Gladwev, the user can automatically export Outlook 2016 data into MBOX.
List of features of outlook 2016 to MBOX converter tool.
This OLM Converter ultimate tool works directly on Mac. There are no more sources of substances that cheat, false ensures like various applications, which try to copy us and are not ready to give results. We are satisfied with our tireless work and familiarize you with the basic applications that run directly on Mac. There is no source of misleading content, fake guarantees such as different applications, which attempt to duplicate us and are not ready to produce results. We are happy with our hard work and introduce you to the main application that runs smoothly on Mac.

It allows the user to exchange all Calendar items to iCal. As the personal settings and plans are important, so keeping in mind the reason we present an extraordinary element that you can use to easily exchange all log books, with little attention to numbers, directly to iCal. walk easily. Start to swap all your personal motivations directly to iCal now.

This program quickly copies emails from Outlook 2016 to the MBOX file. When doing this, the program structures the original Outlook folder on your disk or network, and each folder can be stored in a separate MBOX file. Successfully exported messages can be deleted or moved to the specified Outlook folder. This allows you to run exports several times without making duplicate messages. This utility can export all Internet headers from Outlook messages and generate special Mozilla Thunderbird headers: replied, forwarded, flagged, read / unread.

This will exchange all contacts to VCF. Our own contacts are very valuable and this is an attempt to lose them when we have to start with one email customer then to the next customer. However, don't go there, given the fact that with OLM Converter Ultimate, you can exchange every necessary contact and avoid yourself from inconvenience and worry about losing them. Will protect all header information. This, perhaps the most important part of this device is how to protect everything for you, keep everything perfect and together. OLM Converter Ultimate will, of course, keep all header data fixed and protected. Provides 100% Conversion Accuracy. With this product all offer 100%. Offer big wins or go bankrupt, so no doubt it doesn't frustrate, lose, or damage your own property. Everything you convert with this item will be saved and exactly 100%.

Our application was developed for execution. You run a strong device near and the important thing is proven by itself. This outlook 2016 to mbox conversion application is high in speed and perform the conversion task with complete accuracy. The user will not face any kind of data corruption issue.

The OLM Converter Ultimate lets you work directly on mac. This component is very useful for reducing the time of change, although it ensures the authenticity of the data that governs everything.

Nothing will illuminate you due to data difficulties due to data degradation experienced. Customers also slow down when Outlook Mac crashes and is not feasible to deliver OLM data. We offer a leave package, by preparing changes directly from the Mac's Outlook database.

The user has the full right to convert the data in any language. Whether the data is in non- English language, the user can convert it easily. It also supports double-byte character set languages.

Some users hesitate to lose their data when performing conversion tasks. But with this converter tool, during file conversion, there is no data loss. It makes the data structure secure so users can convert 2016 outlook to MBOX easily and smoothly. This conversion tool is easy to handle. This utility exports e-mail messages from Outlook to the MBOX file, maintaining the original folder structure. The MBOX message database format is used by several email systems for Unix, Linux, and Apple Macintosh. In addition, Mozilla Thunderbird and Eudora for Windows also uses this format to store e-mail messages.

How to export outlook to MBOX?

Here are few simple instructions to convert outlook 2016 to MBOX.

In the first step, select Outlook 2016 and then click on the tab "Next".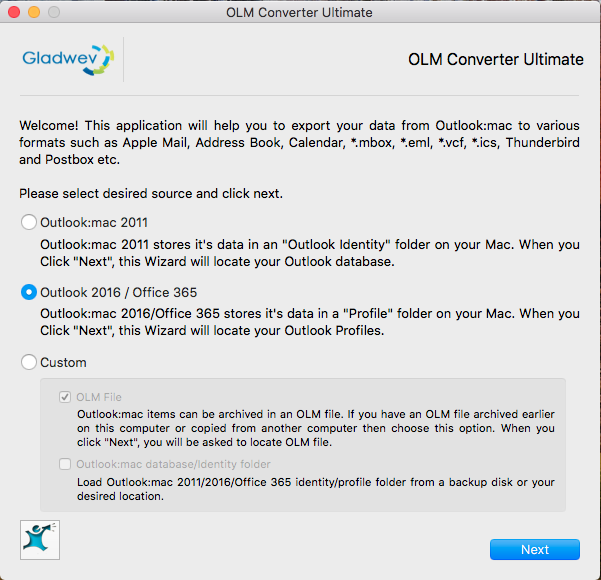 2. Here the scanning will be displayed on the screen.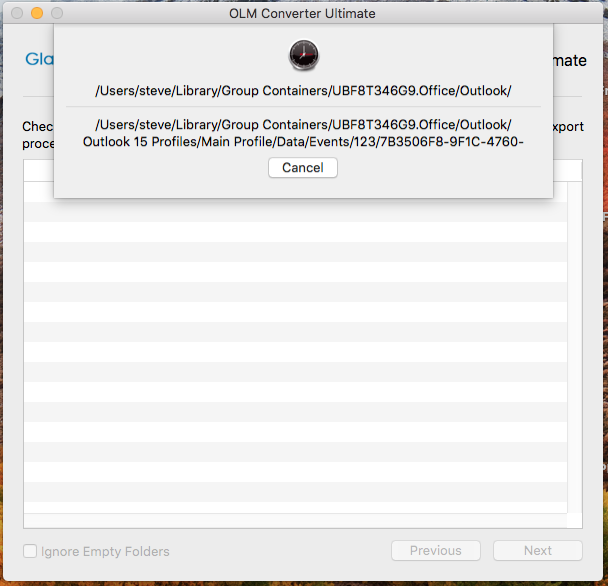 3. In this step it will display your folder structure. You can check or uncheck desired folders which you want to include in or exclude from the export process. Once you done then click on the tab "Next".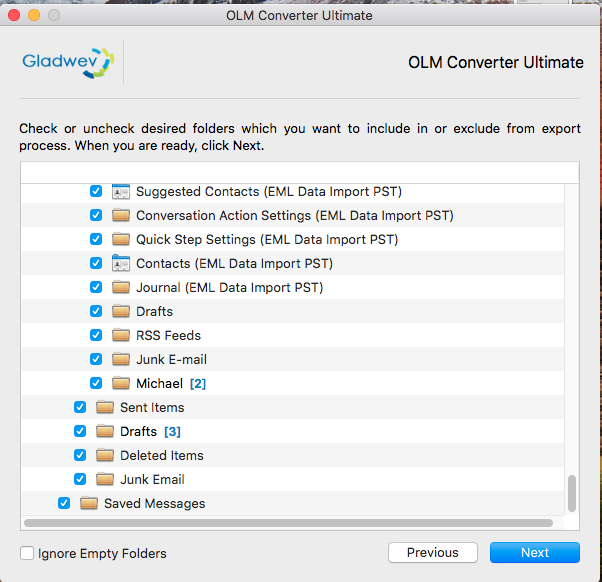 4. Now select the desired format for output results and click on the tab "Next".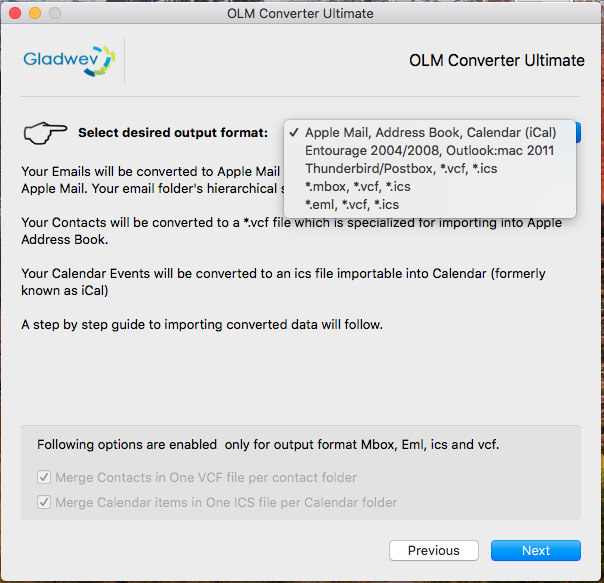 5. Here you have the option to select the desired location for the exported data.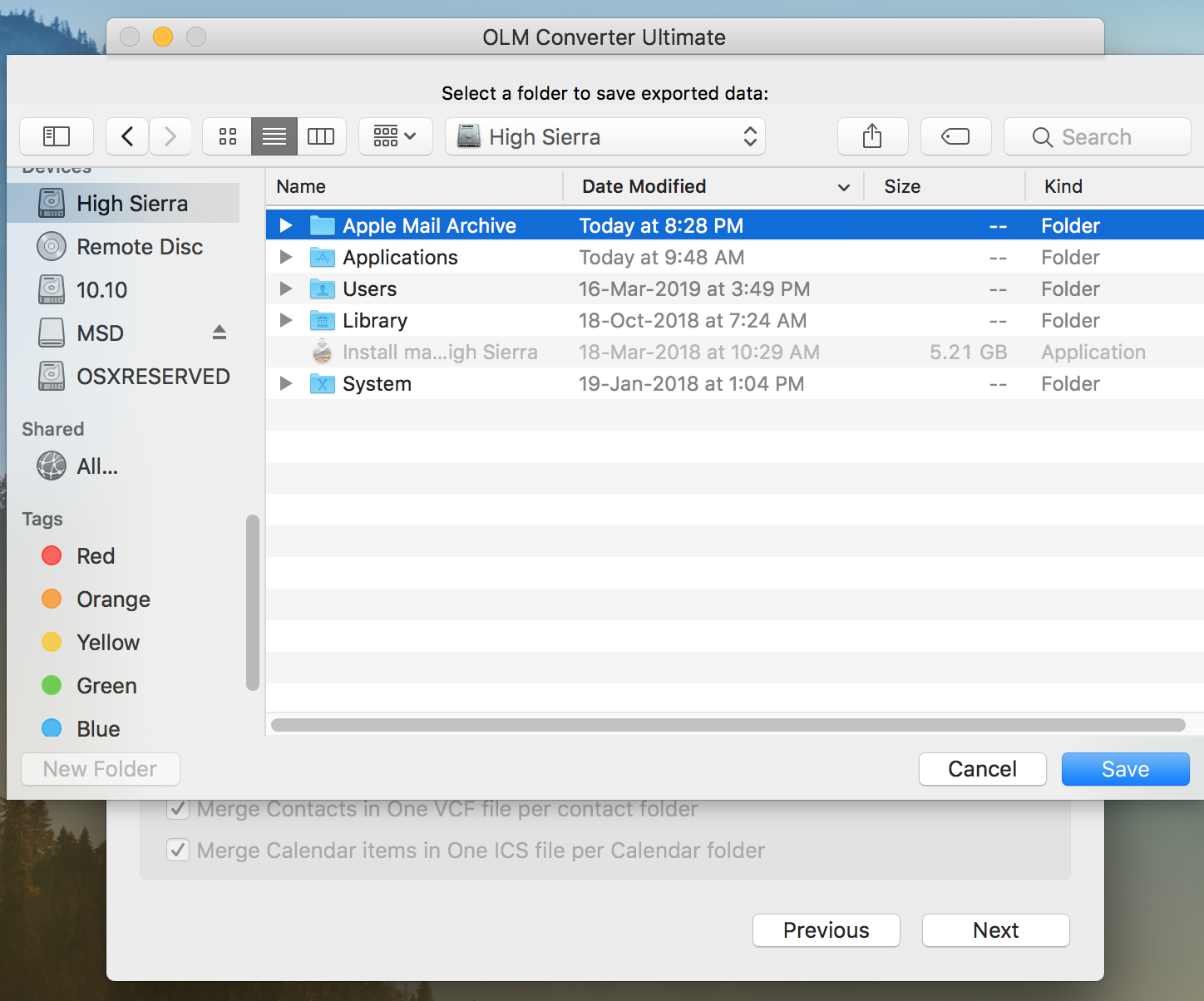 6. After selection of desired folder to save the output data. You will need to click on the tab "Save".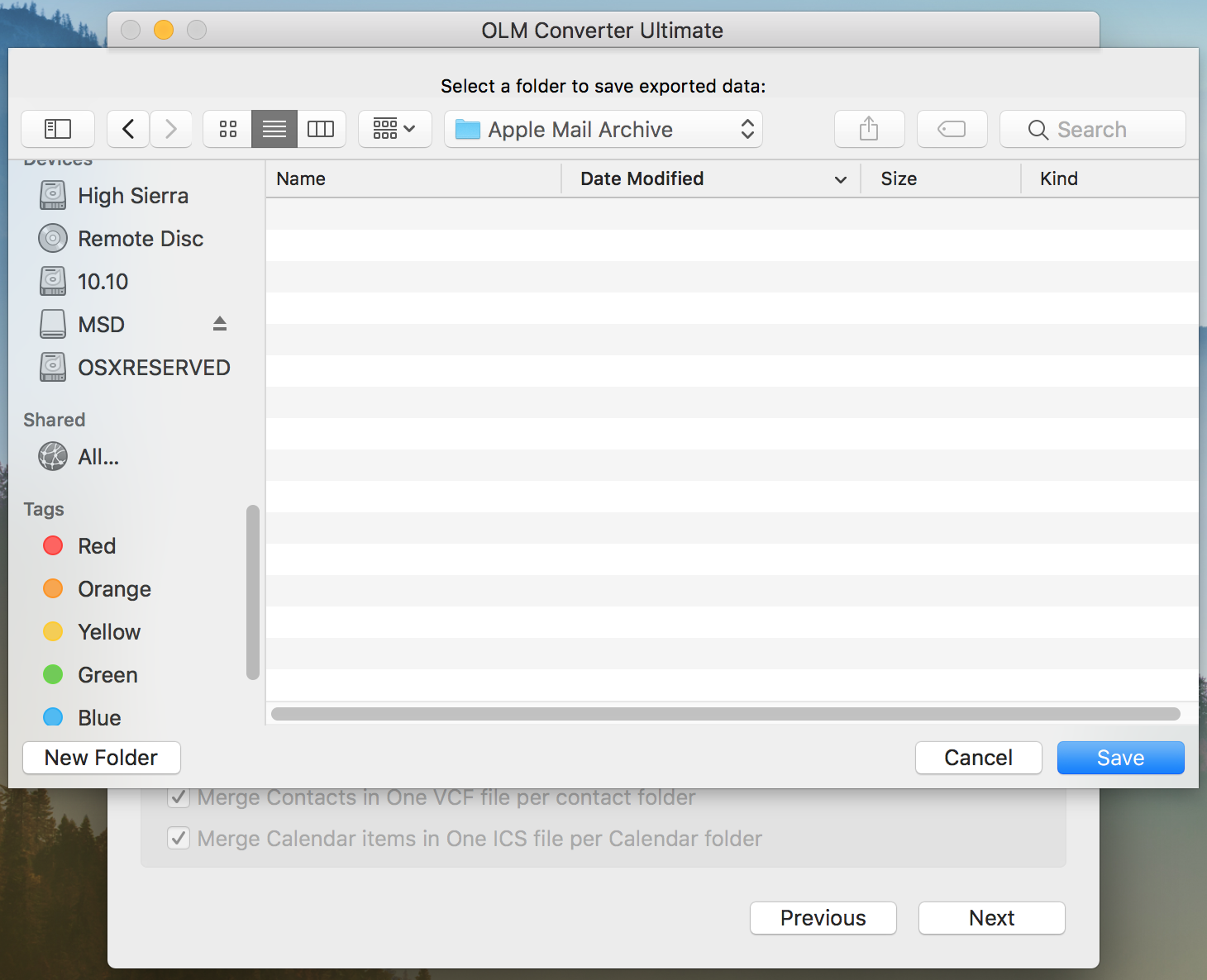 7. The screen displays the process of conversion task.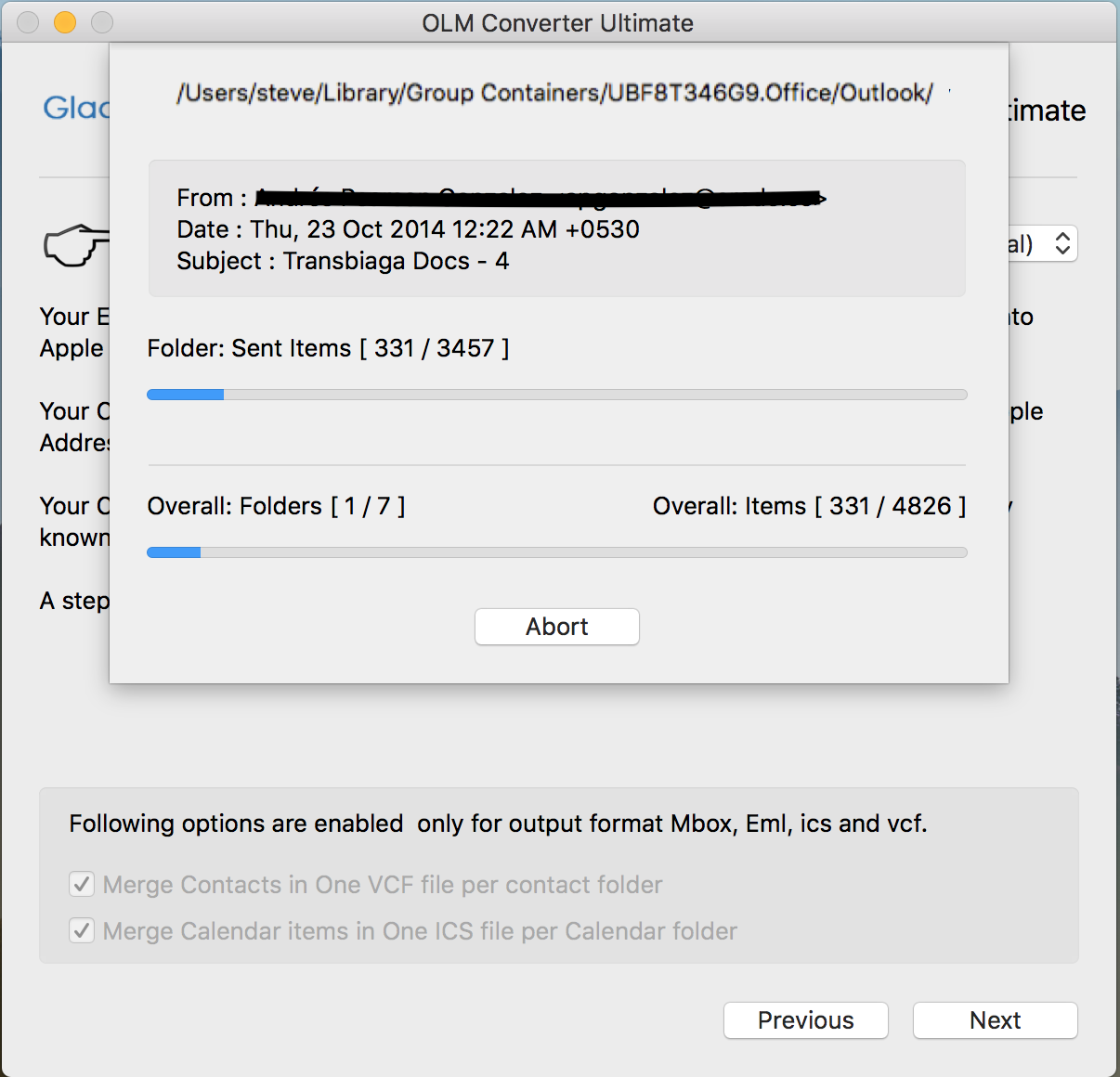 8. Once the conversion done the user will get the complete log report.