The Gladwev OLM to PST converter Ultimate is a certified solution to safely convert OLM to PST files without any risks. This OLM to PST converter works right on mac and gives you the safest OLM to PST conversion results. The tool is unique because it can export OLM to PST files without needing .olm files. The tool directly accesses the Outlook mac identity folder and gives you the best OLM to PST migration results. The tool was created by Gladwev software so that all mac outlook users would be able to export OLM to PST easily without needing to undergo a complex conversion process.
This OLM to PST converter tool comes with some amazing features
It runs right on mac and helps you migrate OLM to PST files instantly
Transfer OLM to PST without needing OLM files (Direct OLM to PST conversion)
Converts all calendar details and contact information with 100% safety
Preserves your address book fields with precision
Reads and recognizes Unicode (Non-English content)
Preserves the hierarchy of your Outlook mac database
Highly User friendly interface
Preserves the integrity of your database
Safeguards meta data like email headers perfectly
Folder preview for email items
Split large PST files to smaller PST files
Filter item facility for selective conversion
Migrate OLM to PST files in bulk
Log report for OLM to PST transfer
Here are the best features of this OLM to PST converter tool in detail
Works right on mac
This is the only OLM to PST converter tool that works directly on mac and assures accurate results. Mac users can finally import OLM to PST in their home operating system without having to look for a windows PC to import OLM files.
Direct OLM to PST transfer
This OLM to PST conversion utility comes with an "Express" conversion mode which allows you to skip and part where you have to load an OLM archive. You don't need .OLM files since the tool automatically goes to your Outlook identity folder. You can choose your desired identity folder if you have more than one. This feature makes this OLM to PST converter faster, safer and better than other tools.
High speed OLM to PST transfer
Since the tool works directly on mac and directly converts OLM to PST, it does not take time to process the .olm archive. This cuts the OLM to PST migration time in half and ensures that the user gets the fastest results without any data loss.
100% data safety assurance
This OLM to PST converter software has been created with a set of safety features which ensure that the user doesn't lose even a single email item during or after the OLM to PST transfer. There is no scope for data loss or file modification since the tool automatically scans the Outlook mac database. If you are dealing with confidential data, this is the tool you need.
Preserves the entire database
With this OLM to PST tool, you can export OLM to PST with the entire database preserved. You can save all attachments, folder details, read/unread status, contacts, tasks, calendar items, and related profile information. This is why most mac outlook users choose to work with this OLM to PST tool whenever they want 100% accurate results.
Preserves folder hierarchy
This OLM to PST converter has been created to protect the original integrity of your Outlook mac database. You can preserve the folder hierarchy of the database so that you find identical folder arrangement in Outlook windows. This feature is a blessing for those users who have nested messages and folders/subfolders in their mailbox.
Preserves non-English content
The tool comes with a very unique feature that allows you to preserve content from multiple languages. While other tools are mostly unable to process Unicode or double byte characters, this OLM to PST tool can read and preserve double byte character based languages. So if you are someone with emails or content in non-English languages, you should get this now.
Splits large PST files
You must be aware that PST files are popular and specially appreciated for their data storage capacity. However, many times the user might want to organize the PST files in a convenient manner. If you have a large database, you can split large PST files into smaller chunks for better management. You can set an automatic size limit so that the tool can automatically split the PST files for you.
Folder Preview
The tool offers an added safety features which ensures that you are in total control of the OLM to PST conversion. You can take a look at the folders and email items once they are loaded. This is an ideal way to make sure that you know what you are going to convert. This feature also allows you to remove any folders/empty folders from the OLM to PST transfer.
Free trial
You can now test the free trial of this OLM to PST converter tool. Once you are sure that the tool runs just like you want, you can upgrade to a highly economical full version. The full version of the tool gives you 24*7 support and free updates for life.
Screenshot, How to Convert OLM to PST File Format
Step 1: Choose the source database for OLM to PST conversion. If you choose "Express", the tool will automatically load your Outlook database from the Outlook identity folder. Choosing "Custom" will allow you to load OLM files or identity folder from your desired location. Once you have chosen, click Next.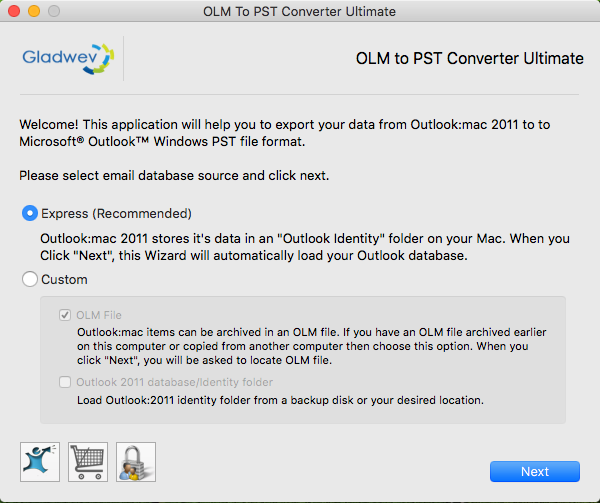 Step 2: The next step is to choose your identity folder. If you have more than one identity folders, choose the one you want to convert. Click "Go"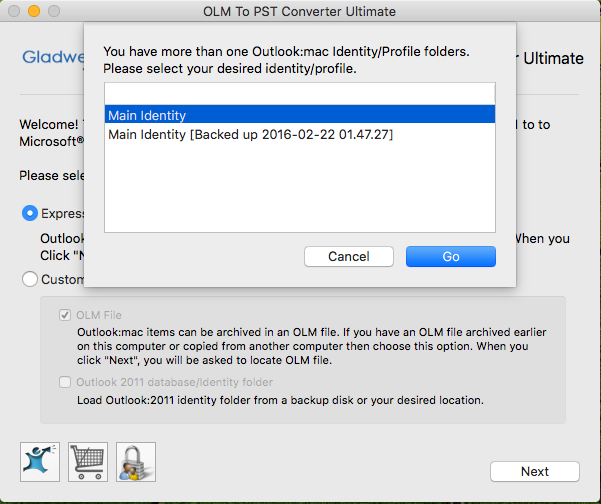 Step 3: This step allows you to include or exclude the folders you want to convert. You can also merge contacts and calendar events in the "default contacts" and "Default calendar" folders. You can also ignore and exclude empty folders in this step.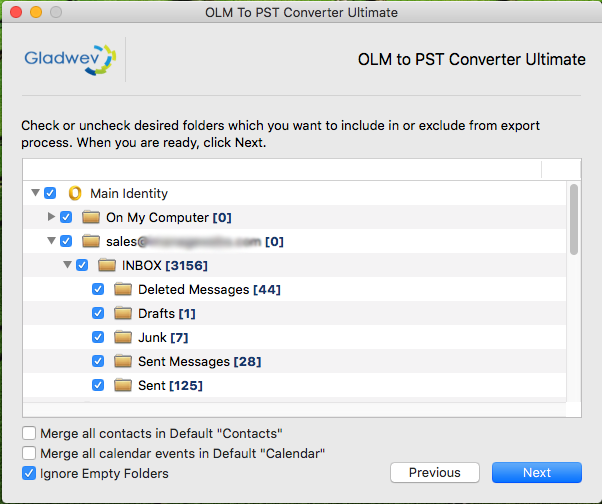 Step 4: If you think your resultant PST files are going to be large sized. You can set a specific size limit after which they will be split into smaller PST files.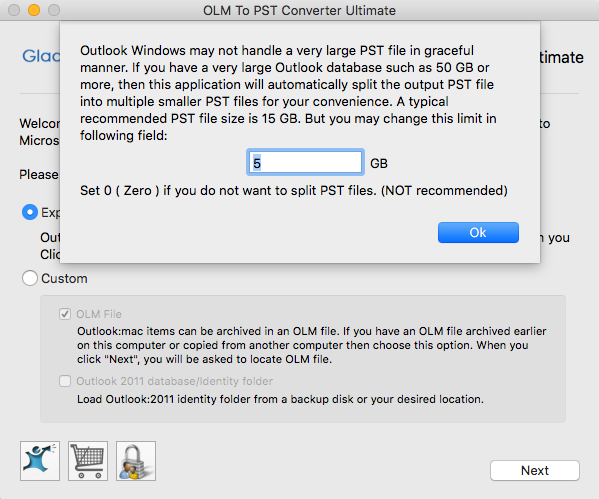 Step 5: Choose your desired location to save the PST file after conversion.
Step 6: Sit and relax as the tool migrates OLM to PST files. You can watch the progress report and abort the OLM to PST transfer any time you want.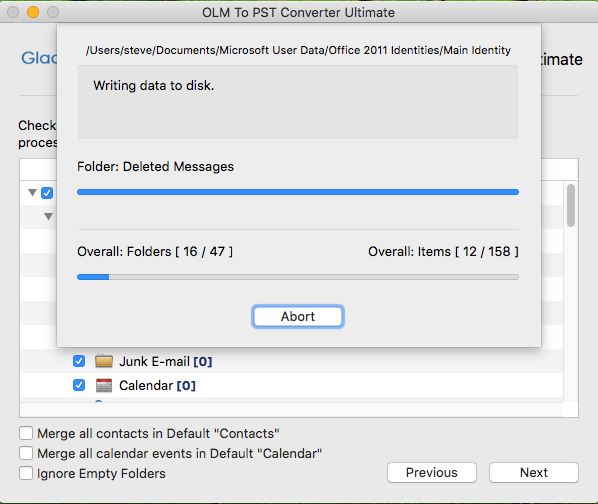 Step 7: This is the confirmation window which you can see after OLM to PST conversion is finished. You can read the summary of the conversion or open it in a txt file with the corresponding option. You can also find the folder directly where your PST file was stored by clicking on "Locate".