What is an OLM file?
The term OLM stands for Outlook for Mac File. As the term suggests, the OLM file is used by Mac outlook email client for a variety of data like contacts, calendars, messages, tasks, emails etc. This format was introduced by Microsoft when they launched Outlook for mac in 2011. However, you should remember that mac outlook stores its data in a database file and not an individual OLM file. It allows the database to be exported in an OLM file. It is said that an OLM file can hold up to 2 GB of data.
Outlook mac OLM file location
Database file: ~/Documents/Microsoft User Data/Office 2011 Identities/Main Identity/
Storage folders: ~/Documents/Microsoft User Data/Office 2011 Identities/Main Identity/Data Records
What is a PST file?
The term PST stands for Personal Storage Table. It is a data file used by Microsoft Outlook to store your Outlook data for POP3, IMAP and email account data. You can store email folders and everything within such folders. PST files store emails, email attachments, tasks, contacts, calendars and more. These files have a much greater capacity for data storage when compared with OLM files. You can also compress these PST files with the "compact now" feature given in MS Outlook.
The Gladwev OLM to PST converter Ultimate is a certified solution to safely convert OLM to PST files without any risks. This OLM to PST converter works right on mac and gives you the safest OLM to PST conversion results. The tool is unique because it can export OLM to PST files without needing .olm files. The tool directly accesses the Outlook mac identity folder and gives you the best OLM to PST migration results. The tool was created by Gladwev software so that all mac outlook users would be able to export OLM to PST easily without needing to undergo a complex conversion process.
This OLM to PST converter tool comes with some amazing features
It runs right on mac and helps you

migrate OLM to PST

files instantly
Transfer OLM to PST without needing OLM files (Direct OLM to PST conversion)
Converts all calendar details and contact information with 100% safety
Preserves your address book fields with precision
Reads and recognizes Unicode (Non-English content)
Preserves the hierarchy of your Outlook mac database
Highly User friendly interface
Preserves the integrity of your database
Safeguards meta data like email headers perfectly
Folder preview for email items
Split large PST files to smaller PST files
Filter item facility for selective conversion
Migrate OLM to PST files in bulk
Log report for OLM to PST transfer
Here are the best features of this OLM to PST converter tool in detail
Works right on mac
This is the only OLM to PST converter tool that works directly on mac and assures accurate results. Mac users can finally import OLM to PST in their home operating system without having to look for a windows PC to import OLM files.
Direct OLM to PST transfer
This OLM to PST conversion utility comes with an "Express" conversion mode which allows you to skip and part where you have to load an OLM archive. You don't need .OLM files since the tool automatically goes to your Outlook identity folder. You can choose your desired identity folder if you have more than one. This feature makes this OLM to PST converter faster, safer and better than other tools.
High speed OLM to PST transfer
Since the tool works directly on mac and directly converts OLM to PST, it does not take time to process the .olm archive. This cuts the OLM to PST migration time in half and ensures that the user gets the fastest results without any data loss.
100% data safety assurance
This OLM to PST converter software has been created with a set of safety features which ensure that the user doesn't lose even a single email item during or after the OLM to PST transfer. There is no scope for data loss or file modification since the tool automatically scans the Outlook mac database. If you are dealing with confidential data, this is the tool you need.
Preserves the entire database
With this OLM to PST tool, you can export OLM to PST with the entire database preserved. You can save all attachments, folder details, read/unread status, contacts, tasks, calendar items, and related profile information. This is why most mac outlook users choose to work with this OLM to PST tool whenever they want 100% accurate results.
Preserves folder hierarchy
This OLM to PST converter has been created to protect the original integrity of your Outlook mac database. You can preserve the folder hierarchy of the database so that you find identical folder arrangement in Outlook windows. This feature is a blessing for those users who have nested messages and folders/subfolders in their mailbox.
Preserves non-English content
The tool comes with a very unique feature that allows you to preserve content from multiple languages. While other tools are mostly unable to process Unicode or double byte characters, this OLM to PST tool can read and preserve double byte character based languages. So if you are someone with emails or content in non-English languages, you should get this now.
Splits large PST files
You must be aware that PST files are popular and specially appreciated for their data storage capacity. However, many times the user might want to organize the PST files in a convenient manner. If you have a large database, you can split large PST files into smaller chunks for better management. You can set an automatic size limit so that the tool can automatically split the PST files for you.
Folder Preview
The tool offers an added safety features which ensures that you are in total control of the OLM to PST conversion. You can take a look at the folders and email items once they are loaded. This is an ideal way to make sure that you know what you are going to convert. This feature also allows you to remove any folders/empty folders from the OLM to PST transfer.
Free trial
You can now test the free trial of this OLM to PST converter tool. Once you are sure that the tool runs just like you want, you can upgrade to a highly economical full version. The full version of the tool gives you 24*7 support and free updates for life.
Additional benefits
This OLM to PST converter tool gives you a lot of great benefits like the following
Easy to install
Simple to use
User friendly interface
Works at high speeds
Gives 100% accurate results
24*7 support
Step by step instructions
No fear of data loss
Saves time and effort with modern features
Software specifications
[Compatible with Mac OS X 10.14 Mojave to 10.8]
[Compatible with Mac OS X 10.6 to 10.7]
Screenshot,

How to Convert OLM to PST

File Format
Step 1:
Download the correct version of OLM to PST converter Ultimate from the official website. For systems with OS older than 10.8, you should go with the version for 10.6 and 10.7 to convert Mac OLM to PST.

Step 2:
The .pkg file is downloaded by now. Double Click it.

Step 3:
The Introduction screen of OLM to PST Converter Ultimate opens up.
Click on Continue to initiate the OLM to PST conversion.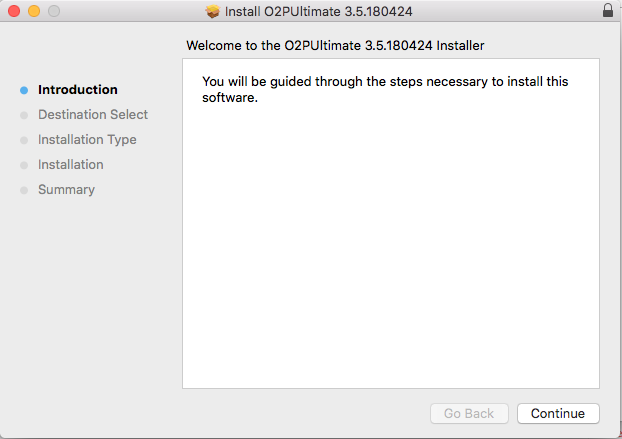 Step 4:
Installation Type Section opens up. The user can change the location using Change Install Location… button at the bottom. That will take you to Destination Select section.
Click on Install.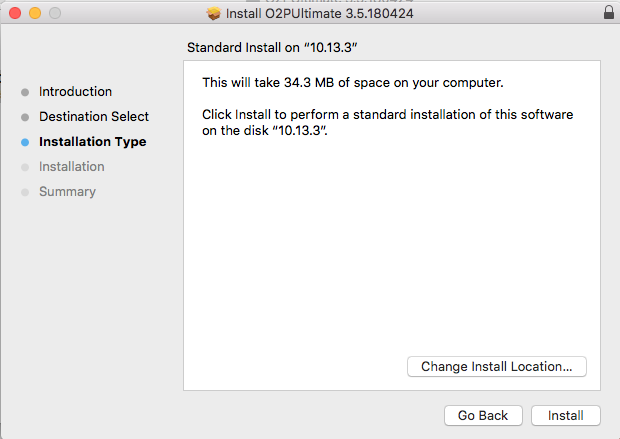 Step 5:
Enter the System password. It is to authenticate that the OLM to PST conversion tool is downloaded with the user's consent.
Click on Install Software.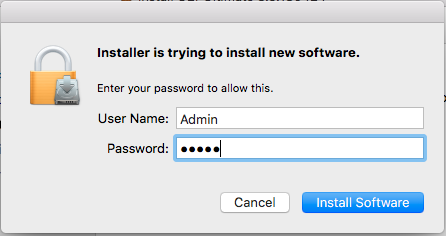 Step 6:
Wait until the installation process is completed.
Click on Close.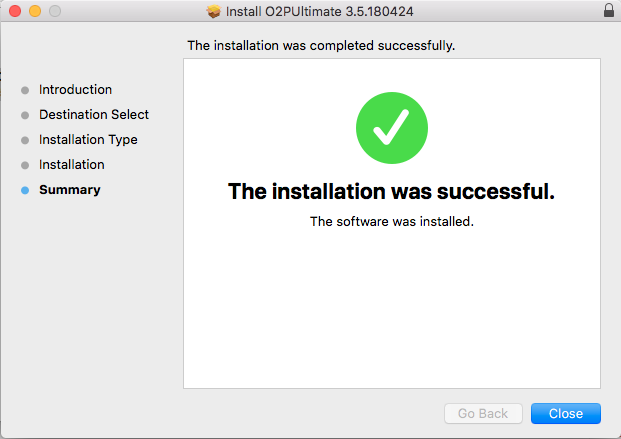 Step 7:
Find the OLM to PST converter Ultimate from the Spotlight.

Step 8:
A window opens up that asks you for the OLM file source to convert OLM files to PST. Here are few options that you will be availed:
Outlook: Mac 2011-> With this option, you can transfer OLM to PST directly from the Outlook Mac 2011 Main Identity.
Outlook 2016/Office 365-> While Outlook 2011 had mail folders in Main Identity, the Outlook2016/Office 365 models are located under "Profiles".
With this option, the user can export OLM to PST format directly from the "Profiles" folder.
Custom:
Apart from Migrating OLM to PST format, directly from the main database of the system, this OLM to PST converter for Mac can convert the data in two other ways as well.OLM File: With this option, you can migrate OLM files to PST from the archived OLM files of Outlook Mac 2011/2016 and Office 365.
b. Outlook: Mac database/Identity Folder.: This option gives you the flexibility to transform your .olm extensions to .pst format directly from the Outlook Identity/ database from a backup disk, even on a separate  Mac system.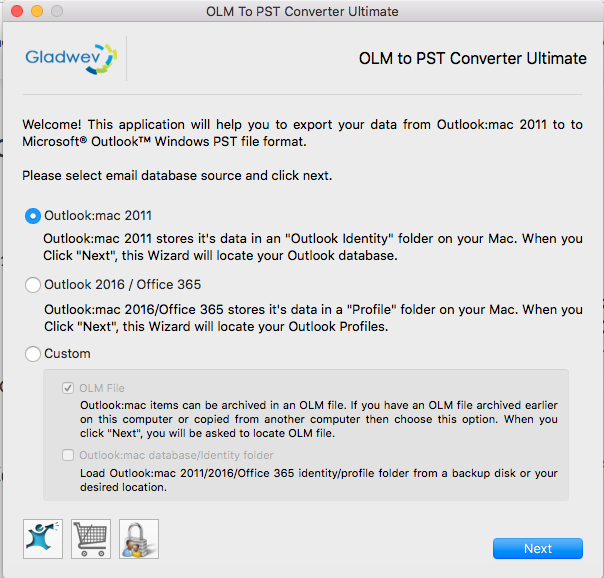 Step 9:
The next screen shows all the mail folders with their subfolders. You can deselect the unwanted folders from here.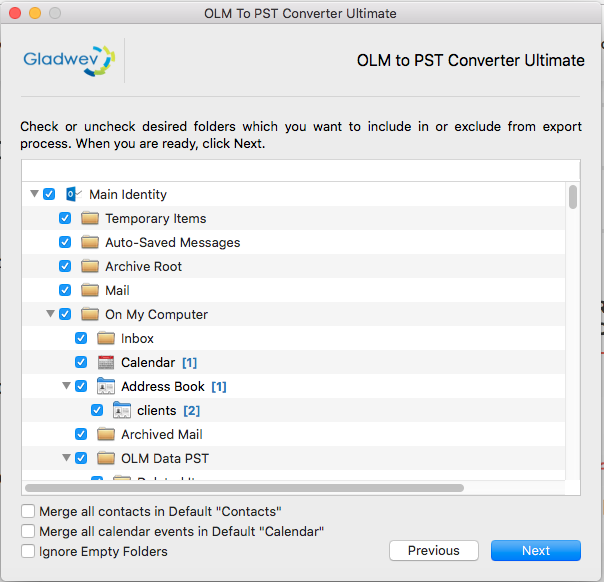 The bottom of the screen gives you three checkboxes.
1.    The first checkbox lets you merge all the contacts in the Default "Contacts" folder. The merging feature gives this OLM to PST Converter tool a unique touch. With this feature all your contacts will be brought together before conversion thus saving them all.

2.The next checkbox merges all the calendar events  thus saving them all while transferring the olm files to pst.

3. The last option lets you ignore the folders containing no email. That saves your space and time as well.

Step 10.
If you are on trial version, you will face this window. Here from, you can either purchase the license for a full-fledged conversion from olm to pst by clicking "Register License"; or you can take a free run of this Olm to pst converter software by clicking "Try it". The free version lets you convert up to 10 mails per folder.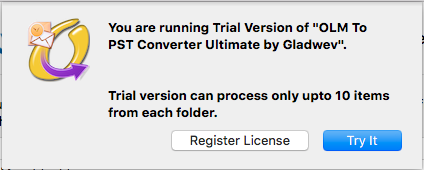 Step 11.
Wait till the OLM to PST tool converts your emails correctly.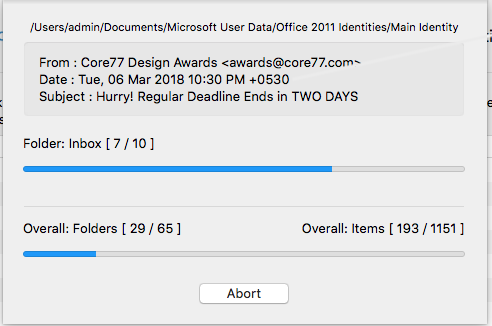 Step 12.
The next screen shows you the reports. You can click on the "Locate" button to find the exported mails' location. You can also find the log report in detail. For the same, click on "Open" button.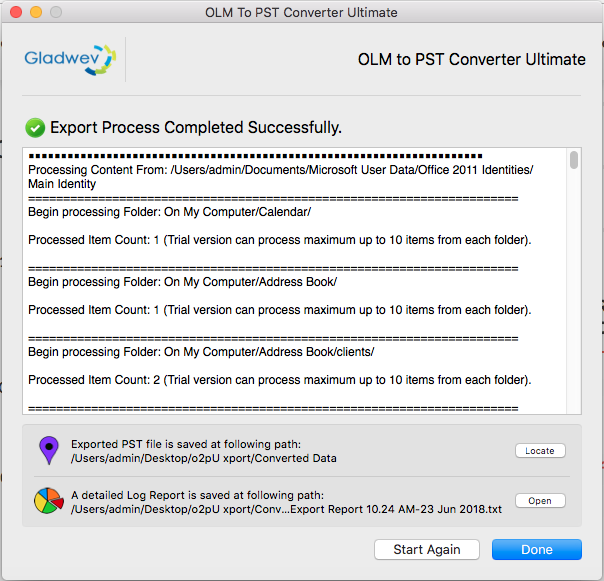 This OLM to PST converter for Mac is considered the best olm to pst converter software as it is the tool that can convert emails on Mac. A bonus, it converts emails directly from the Outlook database thus overcoming the errors caused by the Outlook export function. These errors are usually faced by users who use OLM to PST converter applications dependent on the Outlook's archived OLM file.
Client Testimonial
"I had almost given up on my dream of OLM to PST conversion. Since I was a first time user and had never done this before, my mind was filled with doubt and fear. I sought out any tool I could find online but most of them seemed too good to be true. That is when I found the Gladwev OLM to PST converter Ultimate. This certified tool by Gladwev software gave me a quick and easy way to convert OLM files to PST without asking for any technical steps. The process was self explanatory and the user interface was swift. I was able to convert a large chunk of my files at once in no time. I would really recommend everyone to use this tool at least once. It is 100% safe and comes with 24*7 support!"- Alexander Jones
Five star rated OLM to PST converter
Users trust this OLM to PST converter and find it useful. This is why it is rated five stars on the top software websites. Reviewers, critics and users alike, have given this tool 5 stars for its flawless performance and mind blowing features.
Here are the most frequently asked questions
Does this tool run right on mac?
Yes, fortunately this tool was created to help all types of mac users so that they can easily migrate OLM to PST. This tool works right on mac for all.
Are there any performance issues?
We have thoroughly tested the tool with the help of experts and there are no reports of any lag or error. User reviews are also 100% positive in confirming that the tool works flawlessly.
Can anyone use this tool?
The OLM to PST converter Ultimate was especially created for those mac users who don't know anything about email migration. The tool is so easy to use that even a child can convert OLM to PST with the instructions given by the user interface.
How is the user interface of the tool?
Users have regarded this tool as the most fluid in terms of working. The user interface is responsible for this fluidity. You can follow the simple steps given by the user interface from the installation till the end results.
Will my data stay safe with this tool?
This OLM to PST converter tool boasts of being the safest OLM to PST conversion tool ever made. It guarantees 100% data safety for all users, beginners or advanced.
Will my folders be mixed or distorted?
Your folders will stay in the same composition like your old tool. The tool makes identical folders for the new email client and automatically sends the components of the corresponding folders into the new ones.
What if I get confused during OLM to PST conversion?
There is no need to feel worried about any confusion. We have a dedicated support team for you. You can contact the support staff 24*7 for any confusion or difficulty and they will guide you till your problem is resolved.
What if I have a large database? Does the OLM to PST converter Ultimate support bulk?
This OLM to PST conversion utility gives you the chance to load multiple files at once. You can easily convert OLM to PST in bulk so that you can save your time and effort.
My OLM files were large in size. Can I reduce the size when converting in PST?
The tool comes with a PST file splitting option that allows you to set a limit on the PST files after which they will be split into a smaller PST file.
What if the tool does not work for me?
If you think that the tool has any issues and is not able to meet your requirements after you start using it, you will be eligible for a full refund.